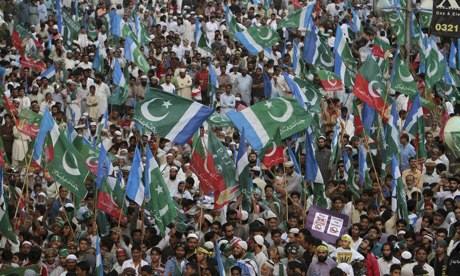 As Pakistan Tehreek-e-Insaf (PTI) led government in Khyber Pakhtunkhwa (KPK) continued its protest against US drone attacks in Pakistan, now the school kids also joined the government for blocking NATO supplies. 
Workers of PTI and Jamaat-e-Islami (JI) have been blocking the supplies at five different points in KP against US drone attacks. 
On Thursday, hundreds of kids from various schools joined a protest of PTI and JI at at ring road in Peshawar against US drone strikes. The students opposed the killer drone strikes, which they consider sign of the US oppression and tyranny against their nation. "We want colors, books, pens, but not the bombs", kids participating in the protest say. 
The students shouted slogans against US and drone attacks and said they wanted peace drone attacks must be stopped in Pakistan.
Earlier, PTI demanded a case should be lodged against US Central Intelligence Agency (CIA) chief and its station chief in Islamabad since the unmanned aircraft are operated by the secret agency.
Source: The Frontier Post.