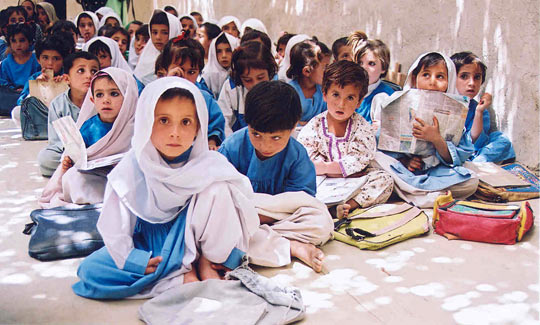 At least 520 girl students of government run primary school for girls in Kandokhel, Khuga Khel of Landikotal Tehsil, who study under open sky, have demanded officials of education office and FATA Secretariat to instantly reconstruct their school being blasted in 2011. 
Owing to negligence and lack of interest of education directorate FATA and Khyber Agency, the girl students in state run school are compelled to maintain reading without rooms and veranda in it. Girl students, in a dilapidated boundary walls, sitting on debris in school were seen busy in learning. The government school for girl remembered on the name of
Mir Raza Killay, Kandokhel, Khugakhel of Landikotal was not reconstructed after four years of its destruction.
Bastaja, a nine years old girl of grade 2nd, clothing in school uniform with Blue shirt while expressing her problems said they sit under an open sky in scorching heat of summer on muddy floor for three to four hours. 
Scores of her schoolmates get unconscious daily due to hot weather, she claimed. In rainy season the school remains closed, she added.
Three female teaching staff members have been deployed in the destructed school who attend their duties however they complaint of lack of basic facilities in the school. 
Yasmeen Haider, one of the school misses said, they have 520 girls students in the school, who are being taught in open ground as the building have been destroyed by the militants four years back.
Counting their problems, Miss Yasmeen said basic necessities like board, chalk, sitting mates for the students; teacher chairs are unavailable in the school adding the miseries have been conveyed to the education department officials but in vain. In times of sever weathers the school is deliberately keep off early of the official time because of the health of the students, she observed.
Maximum girls students were witnessed dressing in casual clothes rather to in school uniform, the Miss said, all the students are sitting on the muddy floor and its difficult to keep clean the school uniform for the whole week, therefore she added permission has been granted to the girls students to attend their school in informal clothes. Abdul Raza, the property owner of the school said, on 25 January, 2011, at 02:25, the school was blown up by planting explosive to it, since that no one has contacted to facilitate the tribal students. I myself had installed a tent for the girls but heavy wind and rain tore into pieces, he lamented.
Lal Wazir, resident of Kandokhel and father of two girl students studying in the school while expressing views said, on one hand the government has long claims to raise to female literacy rate in the tribal region on the other hand it has turned blind eyes towards the problems being faced by the girl students of the area. 
For the last four years our daughters are studying in open sky and the education department officials are least concerned to address their difficulties, Wazir remarked.
When Assistant Agency Education Officer (AAEO), Khyber Agency for Development, Nawaz Afridi was contacted on the matter said, 67 schools have been blasted so far in all three tehsils 0f Khyber Agency and construction work is underway over 26 schools in Jamrud and Landikotal tehsils.
26 demolished schools have been approved in Annual Development Programme(ADP) and will be brought into system soon, he claimed.
Citing the dilapidated law and order condition in Bara tehsil of Khyber Agency, AAEO said despite 41 schools out of 67 militancy hit schools in Bara; have been approved in ADP; however they could not initiate reconstruction work till restoration of complete peace. 
He explained the rehabilitation of 60 schools and 30 schools in missing facilities have also been approved in (ADP) and construction work to be fulfilled soon. "The governments run schools, which have no tents, chalks and boards will be facilitated" he stated. 
Source: The Frontier Post.